New York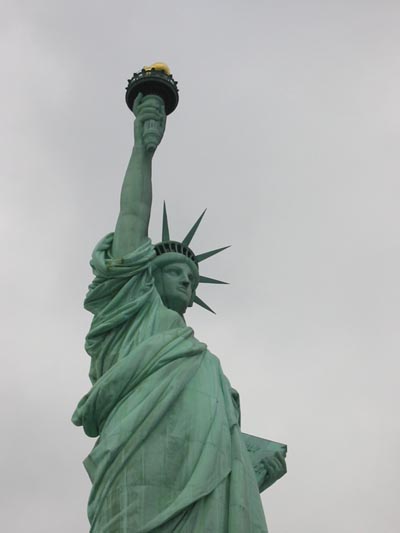 Some highlights from our visit to New York. The photos proceed primarily from north (at Central Park) to south (as far as the Statue of Liberty).
Central Park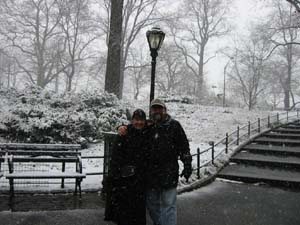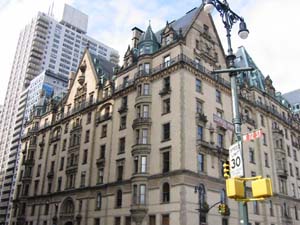 During our visit in 2004, we got a few inches of snow, making Central Park a winter wonderland. The other picture is of the Dakota, where John and Yoko had their apartment. It is just outside of Central Park on
Central Park West and 72nd St
.
Metropolitan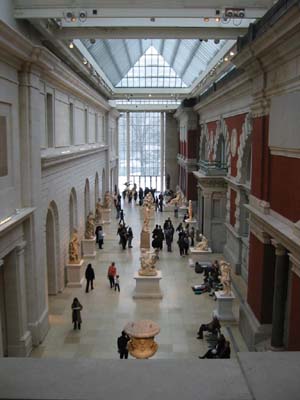 Lots of beautiful art. They do have the habit of closing certain exhibit rooms for periods of time for no apparent reason, so
check ahead
if there's a particular piece you want to see.
Guggenheim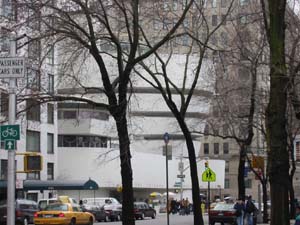 Looks neat from the outside. Didn't get a chance to visit.
We did go to the
Design Museum
which is in Carnegie's old mansion. The building was interesting, but the exhibit was rather dull.
Time Square
TV Show Tapings in New York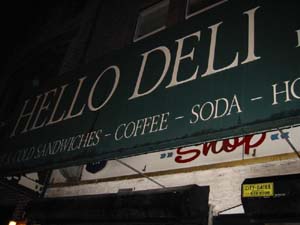 The
Hello Deli
is where Rupert Jee., Letterman's occasional cameo guest, runs his shop. Just around the corner from the Ed Sullivan Theater where Letterman is taped.
We tried to get tickets to Letterman and the Daily Show, last minute, but without success. Info on Daily Show tickets is
here
. It's taped in Comedy Central's studio at
733 11th Avenue
. Info on Letterman tickets is
here
. There is a website dedicated to the various shows taped in New York and strategies to get tickets (
www.nytix.com
).
Rockefeller Center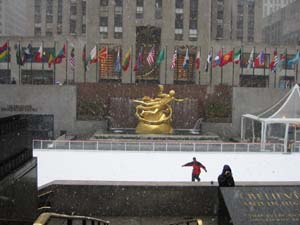 Darn, we forgot our skates... This building is also home to a lot of NBC show studios and the theater with the Rockettes.
Grand Central Station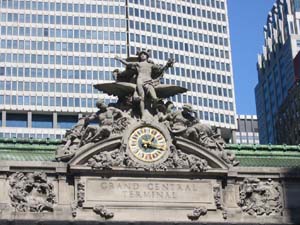 We didn't take a train anywhere, but the station itself has an impressive architecture and is neat to look around.

Mid Town
We ventured down this way to see Yeardley Smith, best known as the voice of Lisa Simpson, do an
off Broadway play
.
While down in this area, I'd recommend eating at
Tamarind
, a really good Indian Restaurant.
41 E. 22nd Street
.
Moving further south you hit Little Italy. While down here I had a childhood flashback seeing the logo for the Ferrara Italian bakery, they also make boxes of
nougat candy
which I recall always getting around Christmas time from my relatives in New Orleans.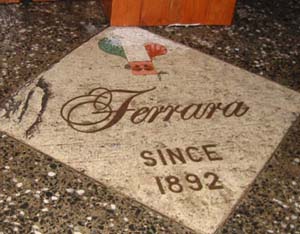 Wall Street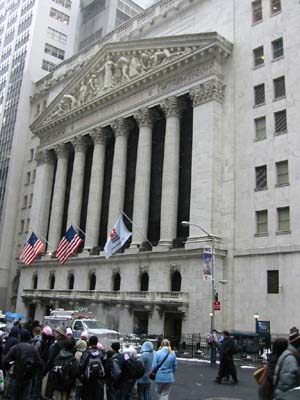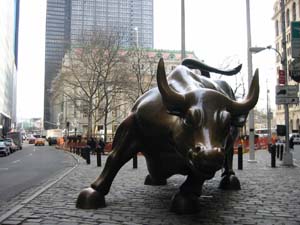 Well its the center of the US economy, so take a look. Security is tight so we couldn't actually go in and see the trading floor. Don't miss the statue in honor of the bull market.
Brooklyn Bridge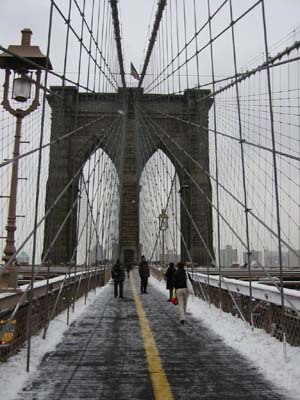 One cool bridge. The walkway is suspended above the roadway. Didn't actually travel to Brooklyn, just enjoyed the view.
Statue of Liberty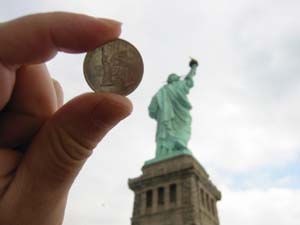 Fun with U.S. currency and monuments. See similar stunt in Washington D.C. in front of White House with a
twenty
. Note that the security on the ferry ride to the Statue of Liberty is now on par with that at airports. Long lines, X-ray machines and wands. I don't think they made me take my shoes off, but I could be misremembering...
Ground Zero